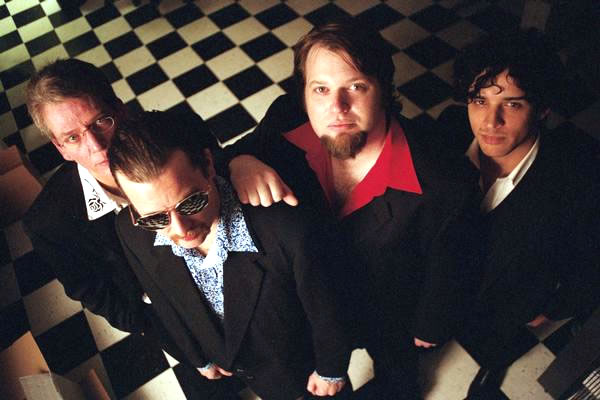 Lamb Handler was formed in 2006 in Charlotte, NC by singer/guitarist Moe Lassiz, guitarist Jay Fernandez, Drummer Tim Benson and bassist Brent Holland. After spending time playing with other outfits the members came together to form a band that was all about the song In February 2007 Lamb Handler released their debut "The Shepherds of Rock" and spent the year touring to promote the album and building a fan base including thousands of myspace friends that support and help spread the word about the band's music. Reviews of the album were and continue to be very positive with comparisons to Queens of the Stone Age and Foo Fighters. All song's from the album are radio friendly but the most played singles have been Piled High, Owed to you and We will follow you which the band also made a video for that you can see on you tube or myspace. August 2008 will see the release of Lamb Handler's second album "Jingle Jangle" which shows the influence of a more twangy sound that the band embraced after doing shows with Joe Buck and Bob Wayne (Hank III). The album still has that high energy catchy rock and roll sound with a hand full of J. Cash or Jerry Lee thrown in for a slight southern sound. Jingle Jangle will be released on one of two labels the band are talking to in GA and NC and the band will spend the rest of the year touring North America. The live show is a rock and roll homage; donít miss this band if you get the chance to see them. (Playgrounds Magazine)
Lamb Handler on Tour
The new album is finally on the horizon. We will be going into Fatback Studios May 10 to start work on our 2nd album which we plan to have out by late July if all goes well. Joel Mullis will once again be at the helm of the recording. We have been working on some of these song's since right after recording "SOR" and some are brand new but we hope we will be able to record them quick and get out there to play em live for you.
We will be playing shows here and there through June but hope to get the album out and do an extensive tour of the US starting Mid July.
Stage Plot / Inputs
For the Late Summer & Fall 2008 tour Lamb Handler is a compact 4 piece band with 2 vocals in, 2 electric guitars, bass and full drumkit.

Publicity and Promotion
Our publicist will be contacting all available entertainment media sources in each city and region where we book shows. Any additional press or radio sources in your area that You wish to provide us will be utilised as well. Contact the address at left for promotional info, interviews and demo recordings.