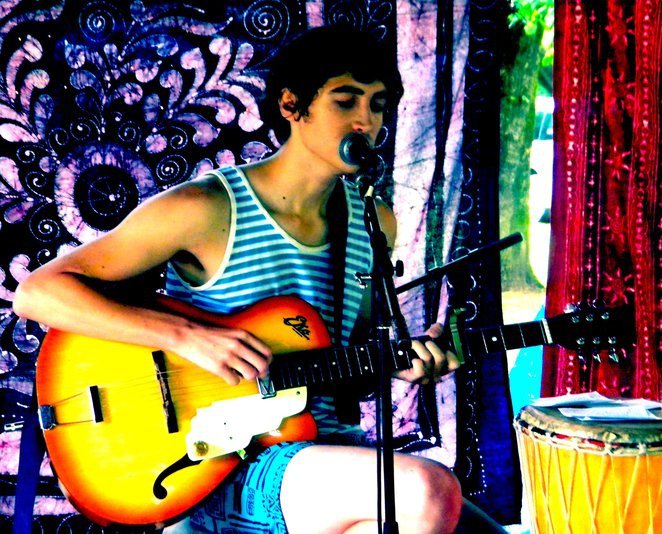 Alex Thompson A vocal prodigy and guitarist describing himself as "psychedelic folk," in style, he is highly melodic, prolific and once experienced his voice and songs are completely recognizable. Influenced by Jeff Buckley & Elliot Smith, some of his songs are even eerily reminiscent of early Tyrannosaurus Rex era Marc Bolan. Alex puts on a highly riveting, blissfully pleasant and articulately delivered performance. Experimental, Inspired & original tunes, a real nice departure from the tidal wave of standard sounding singer songwriters of late.. Alex has a knack for drawing in the focus of his audience with his casual and very natural stage presence. Acoustic morphing to electric, Alex always employs surprising approaches and techniques once his audience is comfortably absorbed into his music.
Born into an artistic family, associated with the theatre vocal music & performing arts, Alex became a member of his hometown boys choir at the early age of 8 and continued on with choir experience throughout college. Alex began writing songs as early as age 15, and became increasingly devoted to the craft. Romance played a part in its cultivation and deeply moving musical experiences, including his attendance & involvement as a worker at the Bonnaroo Festival affected Alex's development when he witnessed the likes of Sigur Ros, Radiohead, Animal Collective, of Montreal, & Andrew Bird, all of whom had a cutting influence on his early material. By attempting to tie all of his artistic endeavors together through his music, he's moving on to conceptual & observational writing, working on new projects with various musicians from around the East Tennessee region, recently including aspiring Knoxville cellist Alexia Pantanizopolous, member of Knoxville indie group Shortwave Society and the Johnson City Orchestra. Ms Pantanizopolous' cello work appears on Alex Thompson's debut Ep which is titled "Carrot Feet" and is due out in early April 2011.
PRESS AND REVIEWS
"Alex Thompson..."
- Casey Phillips CHATTANOOGA TIMES FREE PRESS


Stage Plot / Inputs
Alex Thompson's solo setup ranges from the use of 1 guitar and microphone to 2 amps, a loop station pedal, 2 microphones and 2 guitars. Therefore 2 Direct Ins and 2 Mic. line ins is usually sufficient. Providing at least one Vocal monitor is a huge help.
Also provide 2 boom Microphone stands and a comfortable chair..
Booking, Publicity and Promotion
Contact MySecretIdentity.org Agency through the email address at left for concert booking, promotional info, artist interviews, high res photos for print media and demo recordings for broadcast media.
Alex Thompson on tour
* During Winter/Spring of 2011 AlexThompson will be finishing production on recording his E.P. "Carrot Feet" and will be performing mostly in the eastern & Southeastern U.S. Dates are available for booking as of March 1, Offers for shows in the northeastern US and elsewhere will also be taken at this time. A west coast tour starting in Seattle, WA is in planning for mid to late 2011. Please contact us with your available dates and locations*
A riveting performer well suited for theater stages, listening rooms and venues catering to the music loving audience, but electric enough to connect to your in house system and open for modern indie vanguatrd rock headliners as well. Alex has plenty of material for a 40-115min. set..
Radio Promotion "One Sheet" writeup for Alex Thompson,
(Check back soon, Alex's E.P. "Carrot Feet" is now in production.)