April 26th, 2014 by Robin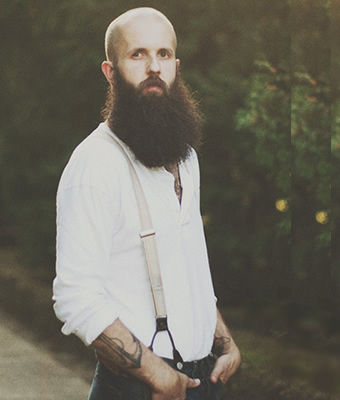 William Fitzsimmons was one of the first artists that I noticed as being of the "best talent available to play here" catergory that I've been telling people was the criteria for the ArtFRONT Presentations artist selection from the beginning of the series. This goes all the way back to Myspace days and he has always been on my radar. Since then (2005) he has released seven albums but up until now the availability to have him onstage has eluded us here in Chattanooga, that's why I immediately accepted an offer from Windish Agency (who also sent us Kaki King) when Chattanooga was offered a spot on William's tour which quite impressively comprises one of the most extensive national & international concert tours happening.
At that moment I wasn't aware of an incredible bonus attached to this deal, the inclusion of Ben Solee on this bill. Back to William Fitzsimmons. Another of the more high profile artists in his style category "Iron & Wine" has received a lot of airplay and press locally and it seemed to me that William Fitzsimmons was always simmering in the background somewhere just waiting to wash into the conciousness of the lovers of truly melodic folk artists and there seem to be a lot of those fans around. This time around He will bring his band to fill up Barking Legs Theater with the kind of Blissful sound quality the venue is so well suited for. 
Here's a page full of info and a studio recordings to give an idea what a treat we are in for on Saturday April 26th. ~R. 
www.WilliamFitzsimmons.com/media/
Plenty of national publications have noticed Mr. Fitzsimmons and here are a few of their accolades and showcased tunes and videos:
Rolling Stone Magazine showcases
William Fitzsimmons live at L.A.'s Hotel Cafe
Ben Solee from www.BenSollee.com/bio/
Known for his thrilling cello-playing that incorporates new techniques to create a unique mix of folk, bluegrass, jazz and R&B, Sollee possesses rough-smooth-smoky vocal stylings bordering on hip-hop and a knack for intricate arrangements that has brought about comparisons to Sufjan Stevens. Sollee shares himself completely with his audience, whether it be by personal lyrics, or his commitment to the environment. Sollee can often be found riding a bicycle to his concerts (cello strapped to the back), which have become legendary for their intimacy.
His latest album, produced by Sollee himself, boasts a sublime cast of musicians, including Carl Broemel (My Morning Jacket) on electric/acoustic guitar and pedal steel, Alana Rocklin on bass, Jordon Ellis on percussion, Jeremy Kittel (formerly of the Turtle Island String Quartet) on violin, and guest vocals by Abigail Washburn. Sollee contributes octave mandolin, guitar, and of course, his signature cello.
~ Written by Silas House
Ben Sollee LIVE @ WFPK Louisville
Ben Sollee – "How to See The Sun Rise" solo @ Paste Mgazine Studio
You can purchase tickets for William Fitzsimmons & Ben Sollee on Saturday Apr. 26th in advance or at the door.
William Fitzsimmons with Ben Solee & TBA

When

Saturday, April 26, 2014

Where

1307 Dodds Ave.
Chattanooga, TN