May 27th, 2016 by Robin
Press Release:
Friday May 27th concert
@ Barking Legs Theater
Double Album Release Party
Jonathan Tryezz
Jamal and The Unstoppables
and maybe some surprise special guests???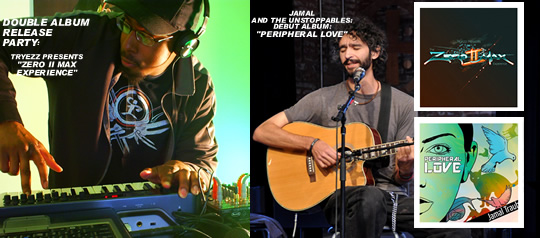 Barking Legs Theater 1307 Dodds Ave. Chattanooga, TN
Show starts 8pm. Friday May 27th.
$10. advance from www.ArtFRONT.com $12. at the door
All ages welcome
Jonathan Tryezz (Fowlkes) Facebook Event Page
Jonathan Tryezz, perhaps better known as Tryezz (pronounced Trezz..) or Jonathan Fowlkes, is a presence on the Chattanooga music and performance scene for over a decade. He's been a favorite artist of ArtFRONT Presentations to watch develop and now it's time for him to break out because there's just too much great music coming from this dedicated young artist to let his humble nature keep his art under wraps any longer.
Exhibiting massive keyboard, electronic, recording and composing skills Tryezz exemplifies the D.I.Y. approach and refines it to a highly polished level with his 10 (yes TEN) self released full album song collections and 2 label releases.  His current release Zero II Max Experience is a treasure chest of highly polished multi-layered sonic gems which Tryezz performs live on keyboards and loop effects… Funk, Jazz, Electronic, Global Grooves and Classical, are all influences on his style. It defies the brain that it's only one performer behind all this  aural bliss.
Some notes from Tryezz' bio….
Main Objective: To create a place to unplug, rejuvenate the mind, set moods, and spread wisdom through the arts.
The "Scenic Groove" is a term I coined to express a song that has a strong groove which gives the listener a feeling of being in a different visual atmosphere.  It is a song that is experienced, not merely listened to.  Since I'm from the "Scenic City" this is what I consider my style of music. ~Tryezz
Priya @ Indie Blender online blog is so inspired by Tryezz that she wrote what amounts to a short story about the effects his music has on her, all her friends, her parties and her life in general. It's quite an enjoyable and enlightening read…
Tryezz is a multi talented graphic artist and a freestyle dancer who is longtime cohorts with the local Natural Habitz and Rok City dance crews.  We've requested to have some of his visual work on display in the merch area to dazzle our patrons with layers of talent and craftsmanship, and maybe even a participatory visit from his dance partners and friends.  This is just one reason the Barking Legs and ArtFRONT communities put together such eclectic and stylistically varied performances.
There are LOTS of impressive songs on Tryezz' new album and throughout his entire repertoire. Get primed for the show by listening to his many jams online and reading about his many creative projects.
Website: http://www.tryezz.com
Youtube: http://www.youtube.com/tryezz
Facebook: http://www.facebook.com/tryezzofficial
*It has been discussed that for this show we will take a short break between sets to re-arrange the stage floor to allow for Tryezz fans and friends to have dance space on the Barking Legs dance floor stage…
Jamal And The Unstoppables

Jamal Traub tiptoed onto the Chattanooga music scene by way of Kansas in 2013, writing and performing personal  songs about love, nature, and the wonder of imagination. He loves serenading people and captivating them with vocal dexterity, intricate guitar work and his animated stage presence.  Since then he captured the attention of Ross Carlson, owner of Red Crow recording studios who immediately saw Jamal's potential and enlisted himself as his record producer and de-facto manager of the first stage of his touring & artist development.  Due to Ross's input Jamal and the Unstoppables are now a full band with a full length album titled "Peripheral Love."  The band members onstage on May 27th at Barking Legs Theater are Jamal Traub, vocals and acoustic guitar, Ross Carlson, electric guitar & effects, Laura Novikoff, bass guitar & Miko on drums & percussion.
This show will combine Jamal's natural  songwriting,  storytelling and entertaining ability with an upbeat and positive band of seasoned musicians who admire his songwriting skills enough to back him up with their own talents and reputations. You can get primed with the recorded versions of Jamal's first album by listening to the full length recording HERE.
https://soundcloud.com/jamal-traub/sets/peripheral-love
Jamal's full band set will segue into the danceable finale of the night, clearing the stage for Tryezz and his polished electronics deep bass grooves and virtuoso keyboard work.
Jamal on Facebook https://www.facebook.com/hearttraub/?fref=ts
Read an in-depth rumination on Jamal and The Unstoppable's new album release by Marc Michael @ Chattanooga Pulse Magazine. http://www.chattanoogapulse.com/music/features/the-unstoppable-jamal-traub/
Make a point to see this show if You are a fan of any kind of current music whether it's soul, dance, funk, electronic or upbeat Americana storytelling… And if you're one of those rabid supporters of LOCAL music this is the real deal, don't just give lip service, bring your body to the best sounding small venue in the southeast for these specially selected artists. They've all got genuine soul with very little hype and we have coaxed them out into the spotlight for Friday night May 27th's very chill and upbeat party.
Double Album Release Party Jonathan Tryezz / Jamal and The Unstoppables

When

Friday, May 27, 2016

Where

1307 Dodds Ave.
Chattanooga, TN