November 16th, 2013 by Robin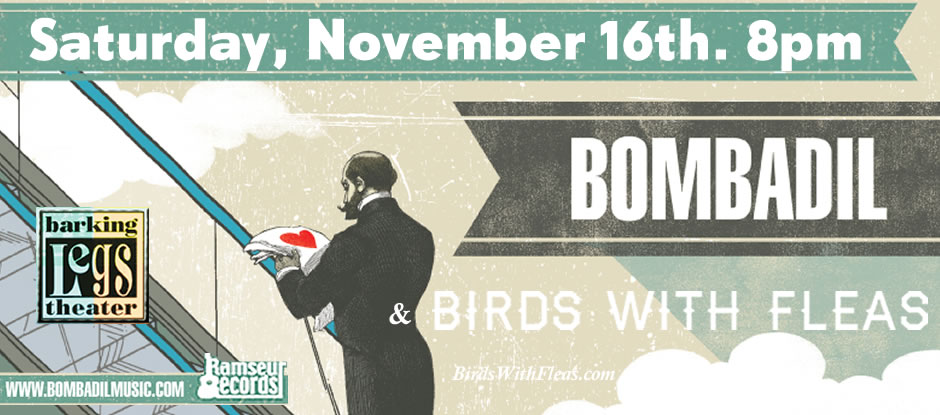 Link to Full Press Release containing complete info on this show and links to artists websites .


event page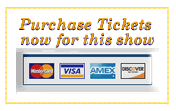 TICKETS NOW ONSALE


8:00pm $12. advance / door




Saturday November 16th concert
@ Barking Legs Theater

Bombadil
&
Birds With Fleas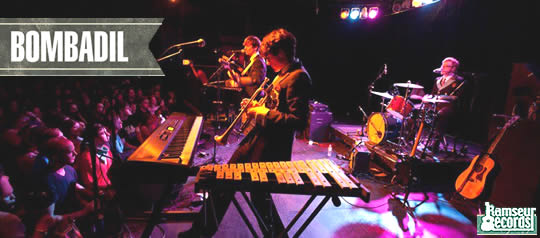 Barking Legs Theater 1307 Dodds Ave. Chattanooga, TN
Show starts 8pm. Saturday November 16th.
$12. advance from www.ArtFRONT.com $12. at thedoor
All ages welcome
Bombadil
(An interview and live radio performance is scheduled for Bombadil on Richard Winham's WUTC 88.1 afternoon music show on Thu. Nov. 14th 3pm.) Celebrating their new CD, "Metrics of Affection" (Ramseur Records) www.BombadilMusic.com www.BombadilMusic.com
Bombadil is on another roll across the USA with a multi city tour. These Ramseur Records (home base of The Avett Brothers) artists have been touring relentlessly since forming in 2004 and on this tour they have been playing festivals and opening for some of the highest profile Americana & folk acts such ad David Wax Museum, Doctor Dog and others. They've been profiled on N.P.R. nationwide and have become a headlining attraction for crowds from their native Raleigh/Durham Chapel hill area's vibrant music scene. This will be their second appearance at Barking Legs Theater & sees them returning as a longtime mainstay of Ramseur records management with a new CD released this summer titled "Metrics of Affection" their 4th full length studio release. The familiar voices of Bombadil are back. The band who is named after an obscure character in the Tolkien universe "tells tales of loneliness, heartache, awkwardness, puppy love, suicide and murder-by-drowning." But now perhaps even more darkly and introspective than in past incarnations. Bombadil is: Daniel Michalak • bass, piano, harmonica James Phillips • drums Stuart Robinson • piano, ukulele.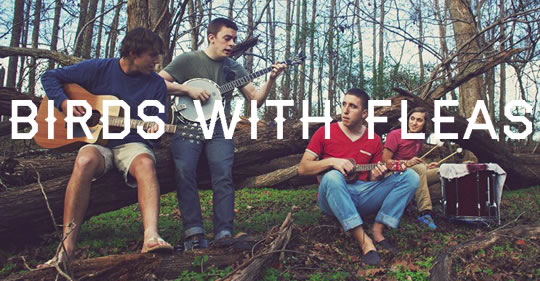 Birds With Fleas
An interview and live radio performance is scheduled on Tommy Cotter's WUTC 88.1 evening music show on Wed. Nov. 13th 9pm.
CD, "The Campfire" (Red Marble Records) www.birdswithfleas.com
Birds With Fleas is what happens when banjo and ukelele meet the backbeat of rock and roll and the vocal barrages of a gospel choir. Matt Siegel (vocals/banjo/uke) and Spencer Karges (vocals/guitar/percussion) form the frontline while Drew Daniels (drums) and James Glass (bass) provide the grooves for your body. ~ (From their Bandcamp page)
Regardless of your opinion of the band's name, Birds With Fleas is at this time one of the tightest and most potent stage acts on the local Chattanooga, TN music roster. Front man, singer and electric ukelele wielding Matt Siegel has an easily recognizable soaring melodic voice. He puts the plugged in and amplified uke and banjo to excellent use as complex rhythm instruments while the rest of the band fills up the stage with sound and vocal harmonies which go beyond the subdued and pleasantly uplifting first full length album "The Campfire." We have been looking forward to a good opportunity to showcase this local act on Barking Legs' soundstage where It's a solid bet they will excel well beyond what any of their first time audience members are expecting. Birds with Fleas opened up the July 12th Nightfall Music performance to one of the larger early crowds of the season and there was a notably enraptured attentiveness from that audience at an event that is usually socially absorbed during the opening band sets. They have become entirely a local Chattanooga band with Matt Siegel's move from North Carolina and we believe that after their next few live performances a lot of new fans will be talking about what a great show they put on. ArtFRONT Presentations is excited to premier this up and coming local act on Barking Legs pristine sound stage to give everyone a good dose of their full potential.
~Robin Merritt
Bombadil & Birds With Fleas

When

Saturday, November 16, 2013

Where

1307 Dodds Ave.
Chattanooga, TN

Other Info